Center for the Humanities
Center for the Humanities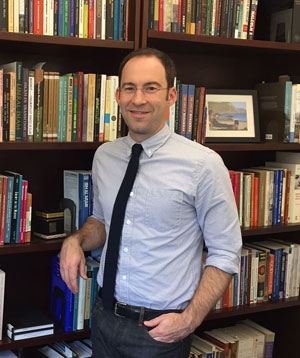 Greetings! I am very proud to direct the Center for the Humanities at Grinnell, and very grateful to Vance Byrd, who will be serving as interim director for 2018-19.
We are pretty unique among centers at small liberal arts colleges, itself a group small in number. We  cosponsor events across campus, support community organizations, put on our own slate of programming each year around an annual theme, run a seminar connecting students with our programming, and support faculty & staff work with our grant programs.
As such, the Center is evidence of Grinnell's incredible commitment to the humanities as a crucial component of a liberal arts education.
We are always looking to partner with others to show just how valuable the humanities are to our community. Please be in touch if you would like the Center to partner on event. We hope to see you at our gatherings and events throughout the year! 
Connect to the humanities with research and scholarship, interdisciplinary studies, and more.
Theme 2018-19: Dis/Unity and Difference
Difference is a reality of community life—as is disagreement about how to negotiate the tensions of celebrating difference and promoting unity. Does focusing on unity paper over difference? Does focusing on difference promote disunity, undermining the possibility of solidarity? In 2018-2019, the Center for the Humanities will host a variety of guests who will present topics and approaches that can help us think through these pressing questions in our communities.
The Center is also sponsoring a year-long Humanities-Social Studies seminar around the annual theme, Dis/Unity and Difference. Participants will read and discuss the work of the Center's guests both before and after the visit and will have the opportunity to visit with the speakers while they are on campus.
The seminar is open to all members of the Grinnell College community. Student participants will earn two credits per semester. Participation in one or both semesters of the course is possible. Contact Tyler Roberts  with questions about the course.