Humanities and Social Studies Complex Frequently Asked Questions
Humanities and Social Studies Complex Frequently Asked Questions
What is this project going to look like?
The HSSC will have approximately 196,600 gross square feet and a height of three (3) stories. It will include four pavilions – North, South, ARH, and Carnegie – all connected by a central three-story atrium.
EXTERIOR/Aerial from North West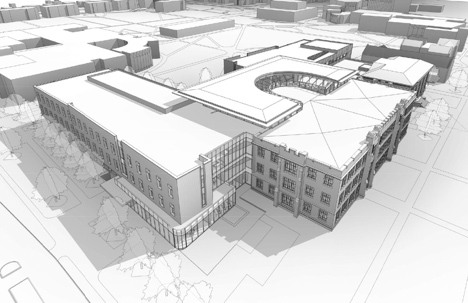 Images Courtesy of EYP Architecture & Engineering
The roof and overhang are being designed to take maximum advantage of natural seasonal light. In addition, a portion of the south pavilion roof is being designed as a "green roof", adding further sustainability impact. Geothermal well fields will help in meeting sustainability goals that aim for a modest net change in energy demand given the large increase in building size. 
Major accessibility considerations include bridging of the floor level differential between ARH and Carnegie and placing and pairing of elevators and stairs in and across pavilions. The design also includes wider halls and other features to enhance access by all.
How, specifically, will the HSSC enhance teaching and learning?
Space in the HSSC will be organized around multidisciplinary centers of gravity to create neighborhoods comprising approximately 40 classrooms, 145 faculty offices, team spaces, and common areas for shared experiences and informal interactions.
The HSSC includes a variety of spaces where "intellectual collisions" can take place, including a Global Learning Center, Data Analysis and Social Inquiry Lab (DASIL), and the Center for Teaching, Learning, and Assessment (CTLA), as well as a redesigned auditorium and social spaces such as the main atrium and coffee bar.
Common rooms, student research rooms, team rooms, and a quiet reading room will support the different kinds of scholarly and creative work that faculty and students are undertaking.
Classrooms with advanced technology will support many kinds of pedagogy desired for an inquiry based approach to learning and facilitate the faculty-student and student-student connections that are the focus of the Grinnell education.
What is the timetable for completion of HSSC?
In the Design Development phase as of July 2016, the project will be progressing quickly to the Construction Documents phase in which architectural designs are elaborated into drawings that facilitate actual construction.
During summer 2016, site preparation includes tree removal and digging for utility relocation including power and data lines, and steam pipe chilled water lines.
New building construction will commence in early 2017. This will take approximately two years. Most of the ARH and Carnegie Hall renovation will take place after occupancy of the new construction, with swing space phased appropriately for occupants and functions currently housed in ARH and Carnegie as conditions necessitate. A "commissioning" stage will involve testing the systems of the building to ensure that they perform as expected. Full occupancy of both the new and renovated sections of HSSC is currently planned for fall of 2020.
How are we paying for this?
In April 2016, the Grinnell College Board of Trustees authorized a Phase I project budget at a total not to exceed $140 million. This includes building design, construction, and renovation as well as the purchase of needed academic technology and furnishings.
The fundraising goal is $20 million. The balance of Phase I financial obligations will be covered by a combination of debt and possibly support from the endowment. A proposal regarding the specifics of the financing plan will be presented to the Board of Trustees in late 2016 or early 2017.
To whom can I talk about issues relating to this project?
You can talk to any member of the ARH-Carnegie Planning Committee, which includes Rachel Aaronson '17, Todd Armstrong, Julia Bauder, Keith Brouhle '96 (co-chair), Sondi Burnell, Corey Hammond, Paul Hutchison, John Kalkbrenner, Kathy Kamp, David Lopatto, Claire Moisan, Pablo Silva, Erik Simpson (co-chair), and Jim Swartz (co-chair). You can also send comments to ARHCarnegiePlanning[at]grinnell[dot]edu.
How long is all of this going to take?
In broad strokes, the design process will have taken about 18 months. It will take about two years to build the new building and at least one year to renovate existing structures. It is anticipated that building of the HSSC and renovation of ARH and Carnegie will not occur simultaneously. Phasing will depend on the final design and needs for swing space. The current target occupancy date is June 2020.