Commencement 2016
It's been a beautiful day for the 170th Commencement of Grinnell College, celebrating the class of 2016.
Commencement exercises began at 10 a.m. at the amphitheater on Central Campus, and are now complete.
The ceremony featured an address by internationally renowned novelist Zadie Smith and the awarding of honorary degrees.
Join us as we celebrate our newest graduates. You can:
See a copy of the live stream on YouTube. (Higher quality video will be available later.)
Follow and join the conversation on Twitter: @GrinnellCollege #Grinnell2016
Share your photos on Instagram: #GrinnellCollege or #Grinnell2016
Check out the story on Snapchat: username grinnellcollege
About Zadie Smith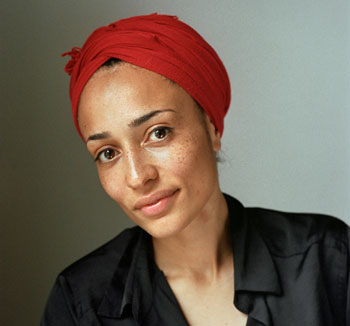 Novelist Zadie Smith was born in North London in 1975 to an English father and a Jamaican mother. She read English at Cambridge, graduating in 1997. Her acclaimed first novel, White Teeth, is a vibrant portrait of contemporary multicultural London. The book won many honors, including the Guardian First Book Award, the Whitbread First Novel Award, the Commonwealth Writers Prize (Overall Winner, Best First Book), and two BT Ethnic and Multicultural Media Awards (Best Book/Novel and Best Female Media Newcomer). Smith's The Autograph Man, a story of loss, obsession, and the nature of celebrity, received the 2003 Jewish Quarterly Wingate Literary Prize for Fiction.
In 2003 and 2013 Smith was named by Granta magazine as one of 20 "Best of Young British Novelists." Smith's On Beauty won the 2006 Orange Prize for Fiction. Her most recent novel, NW, was named as one of the "10 Best Books of 2012" by The New York Times. A tenured professor of creative writing at New York University, Smith writes regularly for The New Yorker and The New York Review of Books. She published one collection of essays, Changing My Mind: Occasional Essays, and is working on a book of essays titled Feel Free.
About Honorary Degree Recipients
Zadie Smith will receive an honorary Doctor of Humane Letters degree at Grinnell's Commencement exercises.
Grinnell also will confer honorary degrees upon two alumni and a renowned educator.
Thomas Cole '71 will receive an honorary Doctor of Laws. He is U.S. Representative for Oklahoma's 4th Congressional District, serving since 2002. Cole, the chairman of the National Republican Congressional Committee, is the fourth-ranking Republican leader in the House. He is currently one of only two Native American serving in Congress and was inducted into the Chickasaw Hall of Fame in 2004.
Fred Hersch '77 will be awarded an honorary Doctor of Humane Letters. A pianist, composer, and one of the world's foremost jazz artists, Hersch was described as "one of the small handful of brilliant musicians of his generation" by Downbeat magazine. His accomplishments include a 2003 Guggenheim Memorial Fellowship for composition and numerous Grammy nominations. He is a member of the Jazz Studies faculty at the New England Conservatory.
Claudia Swisher will receive an honorary Doctor of Social Studies. She was an English teacher for several decades at Norman North High School in Norman, Okla., where she was admired for going above and beyond in her efforts to connect with students. She saw education as something that should be formed around the children, and not that the children and their interests should be manipulated to conform to education.
Grinnell welcomes and encourages the participation of people with disabilities. Information on commencement ceremonies is available at Grinnell's Commencement Web page. For any further information on commencement, please call 641-269-3178.
Photo of Zadie Smith by Dominique Nabokov