Olympic Flag-bearer
Grinnellian swims for Uganda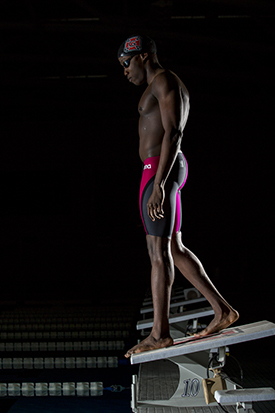 It would have been enough for Joshua Tibatemwa '19 to be Grinnell's first modern-era Olympian during his college career. But two days before the 2016 Rio Olympics began, the swimmer from Kampala, Uganda, learned he'd also make College history another way.
"Imagine my surprise when I found out 48 hours prior to the opening ceremony that I'd be holding the flag," says the first Grinnellian to lead his nation's Olympic team in an opening ceremony. On August 5, Tibatemwa proudly guided the 21-member team into Maracanã Stadium to join the opening ceremony, which he describes as "unique and quite a spectacle."
The soft-spoken member of Grinnell's men's swim team noted that because teams entered Maracanã alphabetically, Uganda was 196th of 208 squads. "So I had plenty of time to calm down," he recalls, smiling. "But it was exhilarating to finally emerge from the tunnel into the light. Also it was unreal to consider that millions of people around the world were watching you walk. Needless to say, I was focused on not tripping."
He didn't. While Tibatemwa didn't medal, the Olympic experience was an education in high-stakes competition for him and Tim Hammond, assistant men's and women's swim coach. Hammond and Erin Hurley, head men's and women's swimming and diving coach, trained Tibatemwa during two-a-day workouts after the College swim season ended.
After Tibatemwa returned home to train and also intern at Kiira Motors, Hammond sent him workouts and advice on technique. Thanks to the generous support of Grinnell Trustee Tobi Klein Marcus '87 and Michael Marcus '86, Hammond then traveled to Rio de Janeiro to help Tibatemwa with final preparations.
"It is a great honor to help develop swimming, and sport, and the opportunity in general in another country and across Africa," says Hammond, who is coaching Tibatemwa again this year at Grinnell. "Joshua shared with me that during the opening ceremonies he was speaking with a USA Swim Team member about how exciting it is to have swimmers from Africa participating in ever greater numbers at the Olympics."
The worldwide attention from spectators and media may have contributed to Tibatemwa's inability to beat his national record of 25.54 seconds in his sole event, the 50-meter freestyle. He swam 25.98, finishing sixth in his heat.
"Joshua hadn't been part of a meet with so much pomp and circumstance and was caught a bit off guard by the camera in his lane when he dove in," Hammond says. "He told me all this afterwards with a bit of frustration as well as excitement. Although it interrupted his performance, he has now experienced it and therefore can plan better for the future."
Tibatemwa tried to treat the Olympics as an ordinary meet. "But I will be honest," he says, "the gravity of the situation was well known to me. There was a lot of pressure riding on the race. However, truth be told, sometimes you have a good race and sometimes you have an OK race. I'm not too disappointed with the time, but I will strive to do better."
He spent most days in the Olympic Village but accompanied Hammond to the iconic Christ the Redeemer statue above Rio along with Uganda's other swimmer, Jamila Lunkuse; Grinnell swimmer and friend Ana Karin Kozjek '17; and her mom, a Slovenian team doctor. The Village, Tibatemwa says, "felt like a large university. All the athletes seemed to be normal people who decided to do extraordinary things."
The exhilaration has faded, and Tibatemwa is pleased to be back at Grinnell, looking forward to helping Grinnell repeat as conference champion. "It's going to feel good to be back in the pool with everyone as opposed to just me by myself," he says. "Plus, the team keeps things lighthearted and entertaining.
"From this point on I just want to enjoy a normal college swimming experience. It was great to compete at Rio, but it took a lot of mental energy throughout the year, and I figure I'm up for a break. As for [the 2020 Summer Olympics in] Tokyo, who knows? Ask me again in three years."
If he goes to Tokyo, he'll have plenty of support, at Grinnell and across the world. After all, not every college has an Olympian on board.