Two Tributes to Bonnie Tinker '69
Unforgettable Grinnellian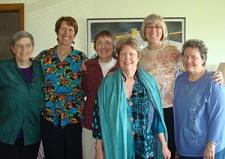 Bonnie organized a reunion of Red Emma, made up of five Grinnellians who moved to Portland in 1971. This photo, taken 11 days before Bonnie's death, includes four of us. From left: Bonnie Tinker '69, Kristan Knapp, Beverly Schnabel '72, Kathleen Clarke, Ann Mussey '72, and Mollie Clarke '71. Courtesy of Beverly Schnabel.
Bonnie Tinker, a lifelong equal rights and peace activist, was killed recently in a bike accident in Blacksburg, Va. A Portland, Ore., resident, Bonnie was attending a national Quaker meeting where she had been presenting her "Opening Hearts and Minds" workshop devoted to nonviolent change.
Bonnie moved to Portland in 1971 with several other women from Grinnell and started a feminist collective, Red Emma. After looking around the community for ways to support women, they started a halfway house for women and a Women's Health Clinic that was a presence in Portland for more than 20 years. In the mid-1970s, Bonnie and others founded the first shelter for battered women in Portland. Bonnie was the founding director of Bradley-Angle House and the first chair of the National Coalition Against Domestic Violence. Bradley-Angle House continues to serve women in Oregon.
At Bonnie's memorial service, her nieces and nephews read from the 1978 Portland Police Intelligence Report as part of the memorial. Bonnie was considered a danger because her sister had been to Cuba and because Bonnie had harbored battered women in safe houses and sought protection for them. Another friend who spoke agreed that Bonnie was a danger, but for a very different reason. Once Bonnie started talking with you, she patiently pursued you to lobby a bill, serve on a board, or do whatever it was she felt you could do, until you agreed.
In 1992, Bonnie put together a documentary, Love Makes a Family, about lesbian and gay marriage in the Religious Society of Friends. She created a nonprofit organization by the same name that works to meet the needs of lesbian, gay, bi, transgendered, and queer families. Public education has always been a need, and Bonnie gave interviews and speeches, even debating the leaders of an Oregon group that initiated a series of vitriolic anti-gay ballot measures in the early 1990s.
Bonnie took a stand for justice and social equality her entire life — on many issues. In recent years she protested the Iraq Surge with Seriously Pissed-Off Grannies at military recruitment centers and got arrested in the process. This was a group that would not yield because as grannies, they had nothing to lose. When Bonnie's attorney spoke to her of entering a plea and going to arraignment, her response was, "I'm a Tinker. Remember that black arm band case on free speech." They went to trial and the judge dismissed all charges on the first day.
There was an incredible sense of energy at the memorial service and moments when those of us from Grinnell felt like we were back on campus in 1968. There was enough history shared that we were reminded once again that we needed to take on the status quo to produce a more just and fair society. Bonnie, of course, took on more than most of us have and did so her entire lifetime.
Bonnie is survived by Sara Graham, her partner of 32 years, three children, three grandchildren, and a menagerie of pets. In 2004, Bonnie and Sara were married when Multnomah County issued marriage licenses to same-sex couples for a period of time.
The diversity at Bonnie's memorial service was high by any measure — age, race, sexual orientation, and shirt and tie/no shirt. Those who spoke, sang, played musical instruments, and performed demonstrated how many different communities and individual lives Bonnie touched. A young man who grew up next door to Bonnie and Sara performed an original rap song that described how Bonnie lived, how she impacted his life, and how he will live now because of her example. Many spoke of her empathy, and through their stories of Bonnie demonstrated how much she helped to expand and foster the common good.
Bonnie Tinker
Taken at the airport following the recent Grinnell reunion (left to right): Susan Shimp '70, Jennifer Riley '70, Barb Duhl '70, and Bonnie Tinker '69.
Photo by Angela Crowley-Koch '00 used courtesy of Jennifer Riley.
I am sad to note the passing of an inspiring Grinnellian, Bonnie Tinker '69. Bonnie made it her life's work to stand up for justice and to do the right thing, no matter how difficult or unpopular.
I met Bonnie in Portland, Ore., when we both ran nonprofits working to end the Iraq War. Working with Bonnie challenged me in many ways, and we did not always see eye to eye. Despite the fact that we disagreed — sometimes vocally — I always had great respect and admiration for Bonnie. Her ability to inspire the same people whose buttons she had pushed the day before is a testament to Bonnie's life and spirit.
In her work for justice, she did what we all felt in our heart was right to do, but didn't have the courage to carry out. Bonnie and her partner Sara stood in front of a tank during Portland's Rose Parade to protest the war. Bonnie was arrested then and other times with members of the group, the Seriously Pissed-Off Grannies.
She fought for civil rights through her nonprofit, Love Makes a Family. In the course of her work for civil rights, Bonnie came face to face with Fred Phelps and his religious hate when defending an Oregon school district's right to display a "Family Diversity" photo exhibit, but she helped the school district stand by its decision to keep the show.
Her participation in causes, actions, and protests are too numerous to list here, but her life was full of noble causes, as evidenced by the Quaker conference she was riding her bicycle to when she was hit by a truck in July. To the end, she lived a dedicated and honorable life. I hope to follow in her footsteps, both now and when I'm a seriously pissed-off granny.
Originally published as an online extra for The Grinnell Magazine, Spring 2009.